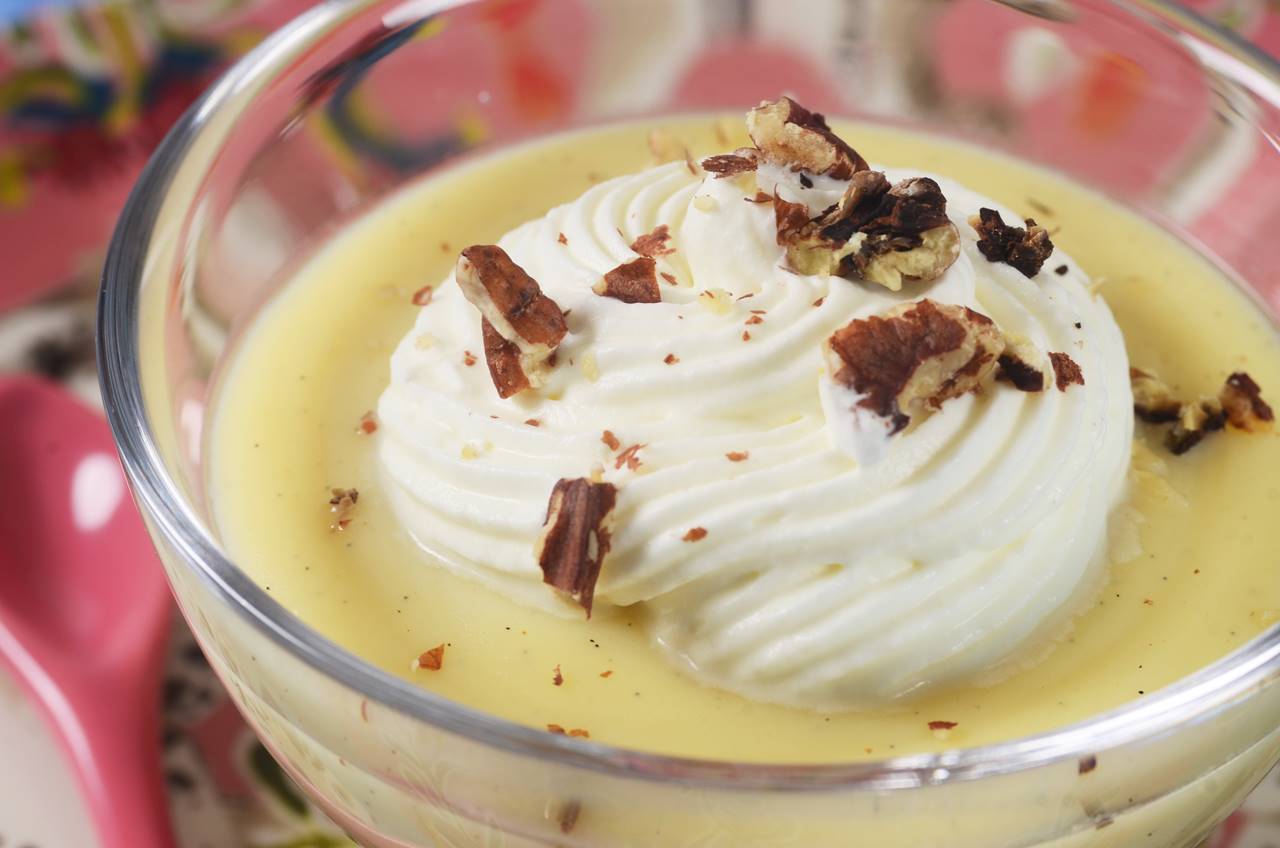 [ad_1]

Sometimes all we need is a bowl of
creamy smooth Vanilla Pudding to satisfy a craving. It is amazing how you can
take everyday ingredients like milk, eggs, sugar, and vanilla, and transform
them into a dessert that tastes so good. It is easy to make, and it is delicious hot, at room temperature, or even cold. It looks so enticing when served in pretty bowls with a dollop of softly whipped cream and
a sprinkling of toasted nuts. 

When you make Vanilla Pudding what you are really doing is making a 'cooked'

custard. The difference between a pudding and a custard is that a pudding

contains cornstarch. Cornstarch is used to make the pudding

thick enough to eat with a spoon. Puddings have to be cooked carefully to

prevent lumps. So keep the heat fairly low and use a heavy bottomed

saucepan, making sure that you stir constantly with a large heatproof

silicone spatula or wooden spoon. Once the pudding has become thick, like mayonnaise, remove it

from the heat and add the butter and vanilla extract. If you have any
lumps, strain the

pudding. If you like

your vanilla pudding warm, then by all means eat it right away. But if

you like your pudding cold, simply press plastic wrap

onto the surface of the puddings and refrigerate until firm (a couple of hours). For those who like a skin (film) on the top of their pudding, let the pudding cool

uncovered and then cover with plastic wrap and refrigerate.

Try to use good
quality ingredients when making a Vanilla Pudding. Since vanilla is

the prominent flavor in this vanilla pudding, try to use "pure" vanilla

extract. Another option is to use pure
vanilla bean paste. This paste contains vanilla seeds so your pudding will have
those lovely little black seeds in it. You can also use one whole vanilla
bean. To use the bean; cut it in half lengthwise and scrape out the seeds and
pulp. Add this, along with the pod, to your milk when you are bringing it to a
boil. The pod can then be removed, rinsed, dried, and placed in some granulated
white sugar to make vanilla sugar.
Vanilla Pudding: In a large

heatproof bowl, whisk 1/3 cup (65 grams) of the granulated white sugar with the

cornstarch, salt, eggs, and egg yolk. Whisk in 1/2 cup (120 ml/grams) of the milk. Set aside while you heat the

rest of the milk and sugar.

Have

ready a fine medium-sized strainer and bowl as you might need

to strain the pudding after it is cooked.

Pour the remaining
3 cups (720 ml/grams) of milk, along with the remaining 1/4 cup (50 grams) of
sugar, into a medium heavy bottomed saucepan and bring just to a boil, stirring
occasionally. Remove from heat and gradually pour the hot milk into the egg
mixture, whisking constantly, until the mixture is smooth. Transfer the pudding
mixture to a heavy bottomed saucepan and place over medium heat and bring just
to a boil. Reduce the heat to medium low and cook,
stirring constantly, until the mixture thickens to the consistency of mayonnaise
(about 3-5 minutes). Remove from heat and whisk in the vanilla
extract and butter. If necessary, pour through the strainer to remove any lumps that may
have formed during cooking.

Pour the pudding

into six or eight serving dishes, cover with plastic wrap, and refrigerate until well chilled, about two

hours. (If you like a skin (film) on the top of the puddings, let cool to room
temperature uncovered. Then cover and refrigerate until firm.)

Serve warm, cold, or at

room temperature with a

large dollop of softly whipped cream and chopped nuts.

Note: To toast

nuts: Preheat oven to 350 degrees F (180 degrees C). Place the nuts on a baking

sheet and bake for about 8 – 10 minutes, or until lightly browned and fragrant.

Let cool then chop coarsely.

Makes 6 – 8 servings.
Preparation time 45 minutes.

Vanilla Pudding Recipe:

1/3 cup (65 grams) plus
1/4 cup (50 grams) granulated white sugar

1/4
cup (30 grams) cornstarch

1/8 teaspoon salt

2 large eggs
(100 grams), at room temperature

1 large egg yolk
(18 grams), at room temperature

3 1/2 cups (840 ml/grams) whole
(full fat) milk, divided

vanilla bean paste or pure vanilla extract

1 tablespoon (13 grams) unsalted

Garnish: (optional)

Lightly sweetened whipped

cream and chopped nuts (walnuts, pecans, or almonds)
[ad_2]

Source link